Mobile-Friendly Cover Images.
Required for an increasingly mobile world.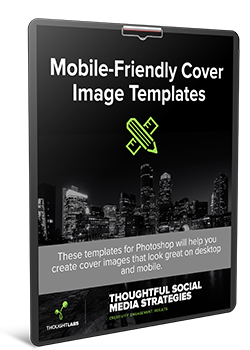 Making a cover image for Facebook, Twitter, or Google+ that looks great on the desktop is pretty routine now, but that desktop cover image doesn't look the same at all for mobile viewers.
Unfortunately, each platform dynamically alters the covers and text for each phone, tablet and other viewing device. This means that it is critical to make sure that your cover images are mobile-friendly.
Our Photoshop templates include:
Multiple versions for Facebook, Twitter, and Google+
Overlays for Profile pictures
Easy to customize guides
Download now and make your cover images mobile-friendly!