How to Create a Successful Facebook Ad Campaign
Our premium step-by-step guide shows you exactly what you need to know to build a successful Facebook ad campaign! Whether you're new to building ad campaigns on Facebook or you've got a few under your belt, you will benefit from the tips, tools, and expertise that we've included to help you make the best campaign possible, at every step.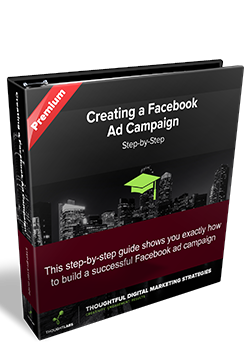 With this guide you'll be able to:
Build your own Facebook ad campaigns

. You will understand all of the basic steps required to build your campaign, which options to choose along the way, and why.

Have deeper insight into campaign options.

You'll understand all of the various options and settings available to you throughout the process of creating a campaign, and you'll understand when and how they should be used.

Have the knowledge and tools to analyze your campaign for insights

. We'll give you the tools to help you analyze your Facebook campaigns and find the insights you need to create an even better campaign next time!
Our premium guide includes:
The PDF guide "Creating a Facebook Ad Campaign"
The supplemental videos, with a complete set of videos that walk you through each step in the process. The videos are linked within the PDF to the relevant step you're working on.
The campaign spreadsheet, full of tools we built to help you build better Facebook ad campaigns faster, and more consistently.
Buy now and start creating successful Facebook campaigns today!