The Right Content For the Right Persona, Every Time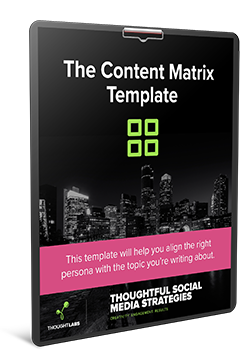 Do you want a fast, easy way to keep track of which content is right for your personas? Download the Content Matrix Template!
The Content Matrix Template will help you align the right persona with the topic you're writing about. It's a great quick reference for you to have when writing, posting, and curating content.
With this template, you'll be able to:

Match your content to your personas
Always know which persona to target
Mix targeting into the DNA of your content
Download now and match the right persona with the right content, every time.